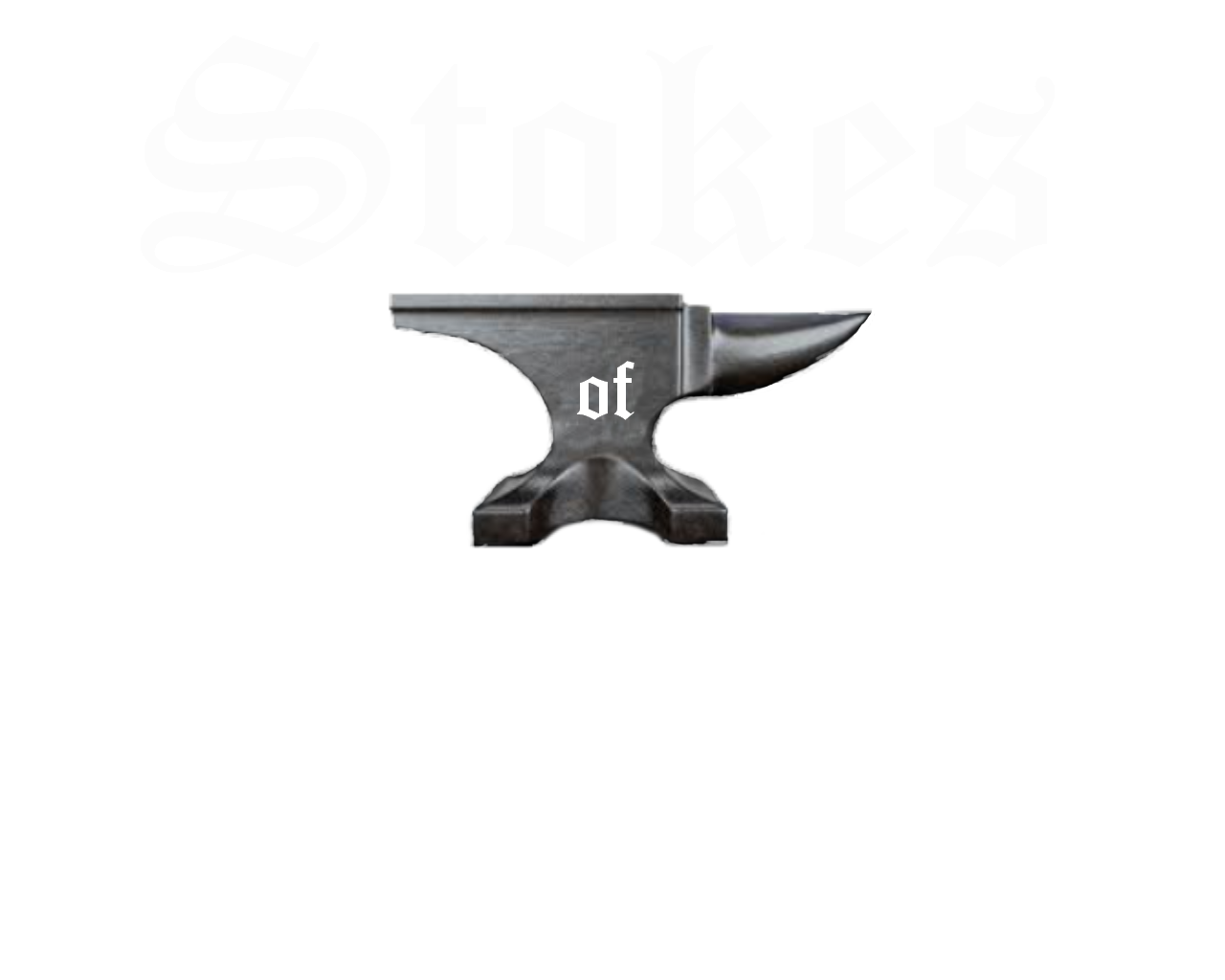 Designers & Manufacturers of internal and external Metalwork

Architectural & Decorative Ironwork Craftsmen and Consultants

Plasma Profile Cutting

Hand Made in England

Specialists in Listed and Ancient Buildings

Artificer in Metals
The Stokes Portfolio – Click to Select

We are experienced in both internal and external major strucural steelwork including welding, general fabrication and profiling

Our portfolio ranges from elaborate chandeliers, to simple wall lights. 
We are able to make lighting to your own design both Candle and electric,


Artistic Collaboration
We have,for many years had the privilege of working with world renown artists and designers bringing their visions to reality.

Our courses are designed to provide the basic knowledge sufficient to enable you to operate a small forge and to give you a taster of what it is like to be a blacksmith.
Chris Stokes, Owner of Stokes of England Oswestry is no ordinary blacksmith. A qualified Tool Maker and Machine Tool Operator he developed his skills in general metal work before undertaking intensive training with his father, Joseph Benjamin Stokes, Master Blacksmith, and Master Farrier, UN Expert and Consultant in Blacksmithing to UN departments and other aid agencies.
Joe opened Stokes of England in North Shropshire in 1985 not just as the family business it was established as a training facility for overseas development and is the source of several Blacksmithing training manuals.
Through the peripatetic nature of Joe's work with the UN Chris lived in various places in Africa. In Khartoum 1972, he swam the Nile at Wad Medani and witnessed the attempted coup of President Nimeri. A spell in Tripoli Libya in 1975 exposed him to the summary justice of Sharia law and in 1976 Joe's work with the UN took them to Zambia.
Educated at Lindisfarne College, followed by an engineering apprenticeship in Oswestry, in 1984 Chris moved to the USA metal working for John and Patricia Kluge; where he also coached University of Virginia girl's rugby team. In 1992 he worked in Kuwait.
Chris's international experience, his innate skills and the exposure to the improvisation techniques taught by his father to African farmers, has greatly enriched the artistic nature of his work. He has undertaken commissions for, Prince Charles, The Omani Royal Family, the Oppenheimers, Owen Paterson MP, Maddona, Paul Simon, and people and organizations locally and throughout the UK.
So if you are looking for a qualified, traditional blacksmith with creativity and originality who is prepared to undertake projects/commissions at home, or world-wide, look no further than Stokes of England, Oswestry, Shropshire.
Stokes of England Ltd
Unit 5, Whittington Business Park
Park Green
OSWESTRY
Shropshire
SY11 4ND
Tel: 01691 672828          info@stokesofengland.com
Email your requirements to us using the contact form.
To enable us to contact you for delivery and payment please
provide a telephone number.
Architectural & Decorative Ironwork Consultants and Craftsmen
Designers and Manufacturers of Interior and exterior metalwork
Specialist for Ancient and Listed buildings
Artificer in metals